President
Professor Simon Crowe (Australia)
Current positions: Simon Crowe is currently Professor of Neuroscience and Clinical Neuropsychology in the Department of Psychology and Counselling, School of Psychology and Public Health, La Trobe University. He has recently completed his term as the Chair of the Australian Psychology Accreditation Council (2016-2018). He is current Chair of the Asia Pacific Psychology Alliance (2019-2023) and is a current member of the Board of Directors of the Australian Psychological Society (2019-2021).
Education: Professor Crowe completed his undergraduate studies in psychology, biology and business at La Trobe University and Deakin University and his postgraduate studies at La Trobe (PhD) and at the University of Melbourne (MSc).
Past positions: Professor Crowe has been Head of the School of Behavioural Science (2001-2007) at La Trobe University and Chair of the Academic Board of La Trobe University (2012-2016). Professor Crowe has been extensively involved in the psychology curriculum for upper secondary education and was Chief examiner for year 12 Psychology in Victoria from 2003-2004.
Publications: Professor Crowe maintains strong research programs in the biological basis of memory formation as well as conducting studies into the neuropsychology of neuropsychiatric disorders and a variety of neuropsychological assessment issues. He has published three monographs, more than 140 refereed journal articles and numerous book chapters, conference presentations, notes and commentaries. He has supervised more than 40 doctoral degree candidates (PhD and DPsych) as well as numerous Masters theses.
Professional practice: He continues to conduct and extensive private practice largely in the area of medico-legal disputation and is an independent neuropsychological examiner for the Workcover Authority, Corrections Victoria and the Transport Accident Commission in Victoria.
Fellowships/Honours: He is an Honorary Fellow of the APS (2015), and a Fellow of the National Academy of Neuropsychology (US) and the Australian Institute of Company Directors. He is a member of the APS Colleges of Clinical Psychology, Clinical Neuropsychology and Forensic psychology.
Leadership positions in national psychology associations: He is a past President of the Australian Psychological Society (APS: 2009-2011) and was on the Board of the APS from 2006-2008. He was Chair of the Heads of Department and Schools of Psychology Australia (HODSPA) in 2005. He is a past editor of the Journal, Australian Psychologist (2001-2005) and continues as Editorial Consultant of the Journal to the present. Professor Crowe was also President of the Alcohol Related Brain Injury Assessment and Support Service (ARBIAS) from 1994-1999, and was made a Life member of ARBIAS in 2000.
Secretary
Dr Cherie Chan (Singapore)
Dr Cherie Chan graduated with a Bachelor of Social Sciences (Hons) from the National University of Singapore (NUS) and holds a Doctorate in Clinical Psychology from Murdoch University, Australia. She is the current President of the Singapore Psychological Society (SPS) and a registered psychologist with the Singapore Register of Psychologists (SRP). With nearly a decade of experience in public and private mental health settings across Singapore and Australia, Cherie has worked extensively with adolescents and adults presenting with a range of psychological issues. She currently practices at a private practice – Thrive Family with prior experience as a Senior Clinical Psychologist at a public hospital, supporting individuals with comorbid mental health and chronic health conditions. She has helped develop and conduct group support programmes for individuals with chronic health conditions, and given multiple workshops and talks on the management of mental health issues to healthcare professionals and the public. Cherie's involvement with SPS started in 2015 in her previous role as the Publicity Chair and she continues to serve with SPS this term as President and hopes to continue supporting the growth of the society, building professionalism and making an impact on society. Outside of clinical work, she represents psychologists in Singapore as a member of the ASEAN Regional Union of Psychology Societies (ARUPS). Cherie is a keen educator and has taught in schools both in Singapore and Australia. She currently holds an Associate Faculty position at Singapore Institute of Technology (SIT) and Singapore University of Social Sciences (SUSS) teaching psychology modules to undergraduates / postgraduates
Treasurer
Professor Brian Hall (Macau)
Brian J. Hall, PhD, is currently Associate Professor of Psychology and Director of the Global and Community Mental Health Research Group, Department of Psychology, University of Macau, and Associate Faculty, Department of Health Behavior and Society, Johns Hopkins Bloomberg School of Public Health. Prof. Hall is the inaugural APA-IUPsyS Global Mental Health Fellow of the World Health Organization. In 2019, he was appointed as a Visiting Fellow of the Chinese Academy of Sciences, and in the Key State Laboratory in Mental Health, in Beijing, China, and elected Fellow of the American Psychological Association. He served as a member of the culture and mental health working group for both the ICD-11 and DSM5-TR. Hall has been involved in over 15 years of intervention and population-level research among vulnerable and at-risk communities globally.
Prof. Hall is a licensed clinical psychologist, and he received his PhD in Clinical Psychology with an emphasis on health psychology, at Kent State University in the Department of Psychological Sciences, and completed his internship as a NIMH T32 predoctoral fellow in traumatic stress at the Medical University of South Carolina, Charleston Consortium clinical training program. He trained in epidemiology on a two-year NIMH T32 postdoctoral fellowship in Psychiatric Epidemiology at the Johns Hopkins Bloomberg School of Public Health. He then accepted a Fogarty Global Health Fellowship with the UJMT consortium and the UNC Institute of Global Health and Infectious Disease with a placement in China to investigate social networks, HIV, and mental health among migrant communities.
Prof. Hall has published over 160 peer-reviewed journal articles and book chapters in diverse research areas including global mental health, trauma, sexual health, behavioral addiction, culture and mental health, psychiatric epidemiology, and migrant health. He received 7 early career awards for his work, three from American Psychological Association Divisions (12, Clinical; 56, Trauma; 52, International), the Chaim and Bela Danieli Young Professional Award from the International Society for Traumatic Stress Studies; and the International Union of Psychological Science Young Investigator Award (Applied Science). He serves or has served as a consultant for the World Health Organization, UNAIDS, UNICEF, and local government offices and NGOs in China. He is an Associate Editor for the journals Applied Psychology: Health and Well-Being, and Anxiety, Stress, and Coping, and serves on 4 other journal editorial boards, including Social Psychiatry and Psychiatric Epidemiology. He is a former elected member of the Board of Directors of the International Society of Traumatic Stress Studies, and the a founding co-chair of the Migrant Health Working Group of the Association for Pacific Rim Universities in Global Health.
Executive Committee Member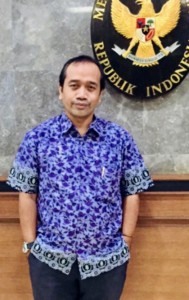 Dr Andik Matulessy (Indonesia)
Dr. Andik Matulessy is a Associate Professor at Faculty of Psychology Universitas 17 Agustus 1945 (UNTAG) Surabaya. He has completed his doctoral studies in the field of Social Psychology at Universitas Gadjah Mada (UGM) with a topic of dissertation is Causal Factors of Student Political Participation, and had a Post-Doctoral Fellowship at Universiti Kebangsaan Malaysia (UKM). Andik is also active in international forums, the International Society of Political Psychology Annual Conference (2010) in San Francisco, USA, the Asian Association Biennial Conference of Social Psychology (2011) in Kunming, China, the International Congress of Psychology (2016 ) in Yokohama, Japan,  the Chair of the 6th ASEAN Regional Union Psychological Society (ARUPS) Congress (2018) in Bali, EEC 2017 in Moscow and ECP 2019 in Moscow. He has actively published scientific articles in the journals, the author of various books  (Political Psychology, Social Movement), editor of Scientific Journals and the Board Member of the Journal of African and Asian Local Government Studies. Andik is also active as Vice President of the Indonesian Psychological Association (HIMPSI) 2014-2022, Executive Committee of ARUPS (ASEAN Regional Union of Psychological Society) and APPA (Asia Pacific Psychology Alliance), also Southeast Asia Regional Representative of  IACCP (International Association for Cross Cultural Psychology) 2018-2022, Advisory Board of Indonesian Social Psychology Association (IPS), members of Indonesian Forensic Psychology (APSIFOR), Indonesian Association of Industrial and Organization (APIO), APA, SPSP, ISPP and AASP.
Executive Committee Member
Professor Sun Xianghong (China)